Q&A: Three Women Detail Life Working Offshore
by Valerie Jones
|
Rigzone Staff
|
Tuesday, September 12, 2017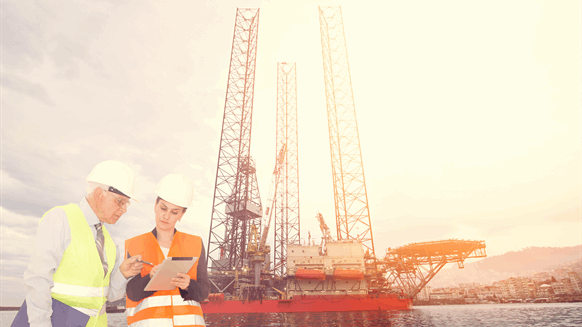 The launch of a new website serves as platform for women who work offshore in which they can share their experiences and gain support from one another.
Ally Cedeno, a nine-year industry veteran, much of it being in maritime, founded WomenOffshore.org, an online platform geared toward offshore-based female professionals, in July 2017. She currently serves as a senior dynamic positioning operator (DPO).
Cedeno, along with fellow offshore workers Jessica Ryals and Erica D'Eramo, who have nine years and 15 years of experience, respectively, took time to chat with Rigzone about their experiences working offshore – everything from the role mentors play in career development to sharing a room with a man.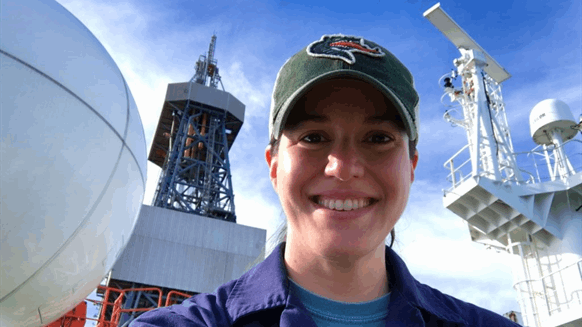 Jessica Ryals is a U.S. Merchant Marine Academy graduate and a nine-year industry veteran.
Rigzone: When and how did you decide you wanted to work offshore?
Cedeno: In 2009, I was working onboard cruise ships when I learned about dynamic positioning systems. I was intrigued by the technology's capabilities, so I applied for a DPO trainee position on a dive support vessel in the Gulf of Mexico.
Ryals: When I graduated from the U.S. Merchant Marine Academy in 2008, the maritime industry was difficult to break into, but the oilfield was recruiting heavily for licensed mariners. The even time rotations and the job of dynamic positioning appealed to me.
D'Eramo: Initially, working offshore was not my choice. I had requested an assignment in Alaska as my second full-time position in 2005, and was instead given an offshore engineering role in the Gulf of Mexico. I was initially heartbroken at the prospect of having to move to Houston and spend two weeks at a time offshore … it turned out to be the right role for me, and I thoroughly enjoyed my time in the Gulf.
Rigzone: What's one misconception people have about working offshore?
Cedeno: "There are no women working offshore" is a common misconception I hear. While the number is low, we aren't as invisible as we seem. Part of what WomenOffshore.org does is reveal this diverse group by interviewing them to find out more about their careers.
Ryals: "It's an unsafe job, particularly post-Macondo." Every industry has its incidents and accidents, but we work hard every day to implement processes to keep our people, our planet and our equipment safe.
D'Eramo: Many people assume that offshore workers must get bored or lonely because we aren't able to leave the facility. In reality, there is a great sense of camaraderie and fun at most facilities I've worked. There are activities in the evenings for people who want to socialize, but more importantly, there's humor and companionship throughout the day.
Rigzone: How important is mentorship for female offshore workers? Were you mentored in the past? Do you currently have a mentor?
Cedeno: I have often wished I had a female mentor while working offshore. Someone to normalize the challenges of offshore life with and to seek guidance from may have set the groundwork for more confidence early in my career.
Ryals: It's so important! I never had someone I would truly consider a mentor, outside of the company mandated one for the first six months I worked there. Having someone to guide me through what working on a rig is like would have been invaluable.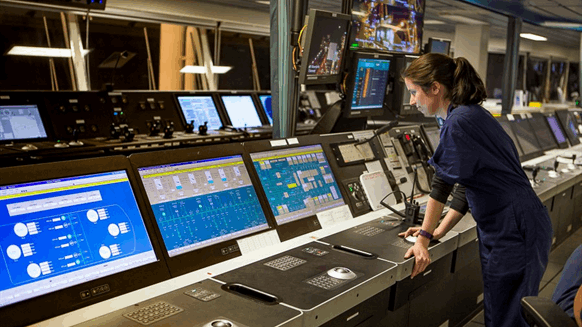 Senior Dynamic Positioning Operator Ally Cedeno is pictured in her element: working on the bridge of a deepwater drillship.
D'Eramo: Mentorship is incredibly important for women working offshore. Many times, unspoken rules and social norms may not be apparent to new entrants. There can be an unfortunate reluctance to give women direct feedback or constructive criticism for fear of hurting their feelings. Having someone who is committed to your development and willing to give you honest and objective feedback and support is crucial for growth and success. I have not always had a mentor, however once I did find one, it became immediately clear just how invaluable that relationship was.
Rigzone: What's the most challenging part of your job?
When Ally Cedeno created WomenOffshore.org, she wasn't worried the name would deter men from joining or supporting the cause.
"I know quite a few fearless men in the industry who are proud of the women they work/worked with," Cedeno told Rigzone. "Not only do they support an inclusive workforce, but they recognize the advantages diversity provides to their operations. I wasn't worried about the guys shying away because I knew a lot would support us and they have."
Cedeno said her website's mission is to support a diverse workforce on the water, which includes reporting news and inclusion efforts in maritime and offshore industries, conducting interviews with women to share their testimonies and providing resources to foster long-term careers.
"We want anyone who is not adjusting well to know that they're not alone and that many of us have had similar experiences," she said. "Our contributors provide perceptions that normalize some of the offshore challenges and lean into some of the more challenging topics for women and men to talk about, such as establishing boundaries with coworkers. Whether it's an interview on our site or a resource we can reference, WomenOffshore.org is here to offer support."
Cedeno: Being gone for weeks at a time. I have worked on ships for more than nine years, but it has never been easy to leave home. I remind myself that it's a good problem to have because I have people and events to look forward to when my hitch offshore is complete.
Ryals: It's a mentally taxing job that requires critical decision-making nearly every day. Dynamic positioning is what keeps the rig in one place over the wellhead and it requires constant attention to positioning, the weather and simultaneous operations to maintain that position. You have to be able to make a quick decision with confidence.
D'Eramo: Regulating personal energy usage and managing energy reserves. It can be tempting to work long hours or take on additional projects since the delineation between work time and personal time starts to disappear when you live where you work. Taking time to recharge is important, whether it's setting a firm bedtime each evening, committing to one early night per week or hitting the gym during lunchtime, carving out time that is specifically for you is crucial for the long haul. An offshore hitch is an endurance run, not a sprint, and burning yourself out can lead to exhaustion, poor decisions and emotional fatigue.
Rigzone: How do you handle and manage living arrangements with men when working offshore?
Cedeno: The companies I've worked for have very respectful policies regarding sharing rooms. When I'm off tour, I have a cabin to myself. Before I head up to the bridge again, I clean up my cabin and put all of my stuff away in a locker, as if I haven't even been there.
Ryals: I am not at all uncomfortable sharing rooms with my male coworkers. I've been doing it safely and cleanly for nine years. I don't think I've ever had a female roommate. What makes it simple for me is that my coworker is my relief, so when I am not in the room, he is on the bridge and vice versa. We are literally never in the room at the same time.
D'Eramo: I find restrictions on room sharing to be a hindrance at times. In my earlier days, it wasn't uncommon to be told that I'd be sent to shore since having one woman in a room took up to an entire cabin and was an inefficient use of bed space. When bed space is tight, I usually offer to share a cabin with a man on the opposite shift, so that we do not need to be in the room at the same time.
Rigzone: What can be done to address the oil and gas industry's gender gap and how can we encourage these efforts?
Cedeno: One way is by encouraging women to stay within the industry when they no longer want to work offshore. We understand that a long-term career offshore is not for everyone, but we also believe that experience working offshore can be used as a stepping stone toward another career in the maritime or offshore industries. We also want to see more women in upper management, especially the board room … we encourage women to work offshore for a couple of years and take that experience to a graduate program to become the decision-makers at companies in which we work.
Ryals: The only thing that's going to fix the gender gap is getting more women out there. A lot of the men I've encountered have never worked with a woman in their environment before, or have only done so recently. Getting more women interested and engaged in the oil and gas industry will make it more normal to see women out there, which will in turn make everyone more comfortable with having women in that space.
D'Eramo: Any time we discuss increasing the number of women in male-dominated fields, there are concerns raised regarding the lowering of standards. Any perception of lowered standards or special consideration is counterproductive to our long-term efforts. We should be evaluating whether the measurements we put in place to determine performance are the correct ones. Often, women in oil and gas are rated on how well they can conform to a masculine environment. This seems like a waste of resources for everyone involved. Instead, we should broaden what we measure to include valuable behaviors that are typically associated with women and rate both men and women on their performance in these areas.
Rigzone: Why do you love what you do?
Cedeno: I love the challenges of the environment I work in, the camaraderie of a bonded crew and the precision of a DP system that allows an 800-foot ship to stay within one meter of a set point. Standing a bridge watch may seem boring to some, but to me, monitoring the DP system while drinking a cup of coffee and watching the sunrise in the early morning is the start of a perfect day.
Ryals: The challenge of it all – from being a woman working in a man's world to achieving a high level USCG license, to the thrill of navigating an 800-foot long drillship in and out of a field, there's a challenge every day – and I rise to it.
D'Eramo: I love working with an international workforce. Meeting people from all over the world is a true privilege, however living and working with those individuals provides a priceless opportunity for connection and a broadening of perspective. I also love working in a dynamic environment with challenges that keep me on my toes and require innovative problem-solving, whether technical, logistical or organizational.
Generated by readers, the comments included herein do not reflect the views and opinions of Rigzone. All comments are subject to editorial review. Off-topic, inappropriate or insulting comments will be removed.